Radiography & Medical Imaging
Message from Head of the Department
I would like to welcome you to the Radiography and Imaging department at FCHS. Imaging science has become one of the most important fields that related to health care services. Different imaging modalities such as MRI, CT and US have provided invaluable information to physicians to diagnose and early detect different types of diseases.
Our goal is to provide our students with the highest level of knowledge and clinical practice skills in the field of imaging science.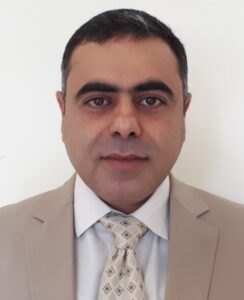 List of Programs and Local Accreditation Status
Bachelor of Medical Imaging
Higher Diploma in Radiography
The Radiography & Medical imaging program at FCHS was established to provide health care services and communities with qualified radiographers recognized by local and international radiographic standards.
Radiographers/Medical Imaging Specialists are health professionals who work in collaboration with radiologists and other specialist medical practitioners to provide patients with a range of diagnostic examinations. Radiographers more specifically facilitate patient diagnosis and management through the creation of medical images using a variety of medical imaging modalities including traditional x-ray radiographic imaging; digital fluoroscopy and digital vascular imaging; computed tomography, mammography, bone mineral densitometry, medical ultrasound, nuclear medicine and magnetic resonance imaging.
Radiographers/Medical Imaging Specialists play a pivotal role in selecting and implementing the most appropriate examination protocols which will answer the clinical questions. This program provides a professional education in general radiography, computed tomography, general medical ultrasound, digital vascular imaging, nuclear medicine and magnetic resonance imaging to facilitate entry into the radiography profession.
Throughout the course, the physical and biomedical sciences are closely integrated with radiographic science and methods. Students will develop an understanding of scientific research in general and its application within radiographic practice. Under supervision, students will develop a range of professional skills in relation to the assessment and management of patients and implement radiographic and medical imaging techniques from an evidence based perspective. In the final year, students will extend their knowledge into Magnetic Resonance Imaging, Pediatric Imaging, Digital Subtraction Angiography, Functional Imaging, Nuclear Medicine and Bone Mineral Densitometry
Program Learning Outcomes
Develop and apply a range of relevant principles and theoretical knowledge of health sciences knowledge necessary for successful employment in the Medical Imaging Specialist profession.

Demonstrate mastery of current methods, materials, supplies and equipment to meet occupational requirements and needs.

Demonstrate how to apply their knowledge and understanding in careers in Medical Diagnostic Imaging to produce high quality diagnostic image with less radiation risks.

Demonstrate a knowledge of medical physics and information technology and their application to RMI contexts.

Demonstrate ability to use radiographic equipment, medical imaging instrumentation and positioning methodology in order to develop efficient RMI practice.

Select and deploy a range of factors that can be used to promote patient/client adherence to disease prevention.

Develop a range of communication skills within health care settings including knowledge of information technology, critical thinking, problem solving, and verbal and written communication, time management, presentation skills and teamwork.

Demonstrate competent RMI skills in a various aspects of RMI specialties.

Efficient participation in research activities in the community as well as part of a health care team in a range of context.

Take and defend positions to patient education and radiation protection.

Demonstrate ethical and social issues values important to the health care and Medical Imaging professional.

Take responsibility for team performance and leadership on latest knowledge and changing needs of the Medical Imaging community.

Interact with other health care professionals colleagues in a range of settings.

Demonstrate the ability to comprehend multiple perspectives and formulate effective actions.
Staff

Title
Degree
Speciality
Dr. Mustafa Khaled Alhasan
Associate Professor
Head Of Department

PhD
Radiologic Sciences
Dr. Mohamed Hasaneen
Instructor
PhD
Diagnostic Radiological Imaging
Dr. Wijdan Alomaim
Instructor
PhD
Radiography
Sahana Kotian
Instructor
MSc
Medical Imagining
Rania Mosa
Lab Specialist

BSc
Radiologic Technology
Abir Ben Hassen
Lab Specialist
BSc
Medical Imaging
Jerald Paul Immanuel
Lab Specialist
MSc
Medical Imaging
Qays Al-Horani
Instructor
MSc
Medical Physics
Noorhan Oghlah
Lab Specialist
BSc
MEDICAL PHYSICS
Fatima Yousif Ahmed Abdalla Al Ali
Instructor
PhD Candidate
Obstetric And Gynecological
Ninan Cherry Jacob
Lab Specialist
MSc
Medical Imaging
Dr. Suliman Gafar Salim Salih
Associate Professor
PhD
Nuclear Medicine Imaging
Ajnas Mohammed Alsaeed Alkatheeri
Teaching Assistant
BSc
Radiography And Medical Imaging
Dr.Mohd Nazmi Bin Che Nordin
Assistant Professor
PhD
Interventional Radiology
Lina Khaled Fares Jallad
Instructor
MSc
Ultrasound Imaging