Message from Head of the Department
Dear Students, Faculty Members, and Visitors,
It is with immense pleasure and excitement that I extend a warm welcome to you all to the Pharmacy Department at Fatima College of Health Sciences (FCHS). As the newly appointed Head of the department, I am honored to lead a team of dedicated educators, researchers, and professionals who are committed to shaping the future of pharmacy.
Read more

Our department stands as a hub of academic excellence, innovation, and compassionate patient care. With a rich tradition of nurturing talents and fostering a culture of continuous learning, we are dedicated to empowering our students with the knowledge and skills necessary to excel in the dynamic world of pharmacy.

Here, at FCHS, we believe in the transformative power of education. Our state-of-the-art facilities, cutting-edge research opportunities, and experiential learning programs are designed to provide you with a holistic educational experience that extends beyond the classroom. We take pride in our accomplished faculty who are not only experts in their respective fields but also dedicated mentors who are invested in your success.

As you embark on your educational journey with us, you will find a community that embraces diversity, promotes innovation, and encourages collaboration. We are here to support your growth, encourage your curiosity, and guide you towards becoming compassionate healthcare professionals who make a positive impact on the lives of individuals and communities.

I am delighted to share with you the exciting news about the progress of our department in successfully submitting the self-study report for American accreditation of our program. This is a significant step forward and a testament to the hard work and dedication of our team.

Furthermore, I am thrilled to announce the upcoming plans to restructure our program and introduce a PharmD degree through our department. This development showcases our commitment to providing high-quality education and staying at the forefront of academic excellence. The introduction of a PharmD degree will undoubtedly open new avenues for our students and contribute to the growth and reputation of our department.

Whether you are a student ready to embrace the challenges of pharmacy education, a faculty member eager to contribute to cutting-edge research, or a visitor interested in our endeavors, I invite you to explore our department, engage with our resources, and be part of our shared commitment to excellence.

I look forward to meeting each one of you, and together, let us embark on a journey of discovery, growth, and meaningful contributions to the field of pharmacy.

Warm regards,

Mohamed Baraka

Head of the Pharmacy Department

 
FCHS is currently offering a 5-year Bachelor of Pharmacy and a 3-year Higher Diploma in Pharmacy in Abu Dhabi and Al Ain. The Commission for Academic Accreditation (CAA) initially approved the FCHS Pharmacy program in August 2016. The Pharmacy department has committed to continuous quality monitoring and improvement. Recently, the Pharmacy curriculum has been updated to meet the global standards of Pharmacy education and to produce quality pharmacists. This innovative and integrated curriculum balances the local and international expectations of the pharmacist. This modified program commenced in AY2019-20 with the simultaneous phasing out of the initial Monash Pharmacy program.
FCHS Pharmacy department has developed state of the art teaching facilities and labs to train undergraduate students. FCHS Pharmacy teaching methodologies include lectures, tutorials, workshops, practicals and professional placements. The Pharmacy department has well-qualified academics from diverse nationalities and specializations to deliver the curriculum and train students to achieve the required competencies. Apart from academic activities, students are encouraged to participate in extracurricular activities and engage in health-related community activities.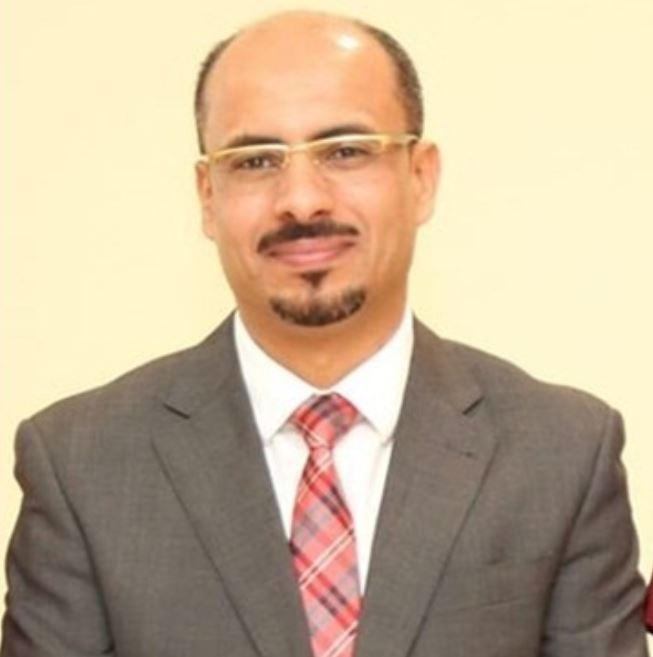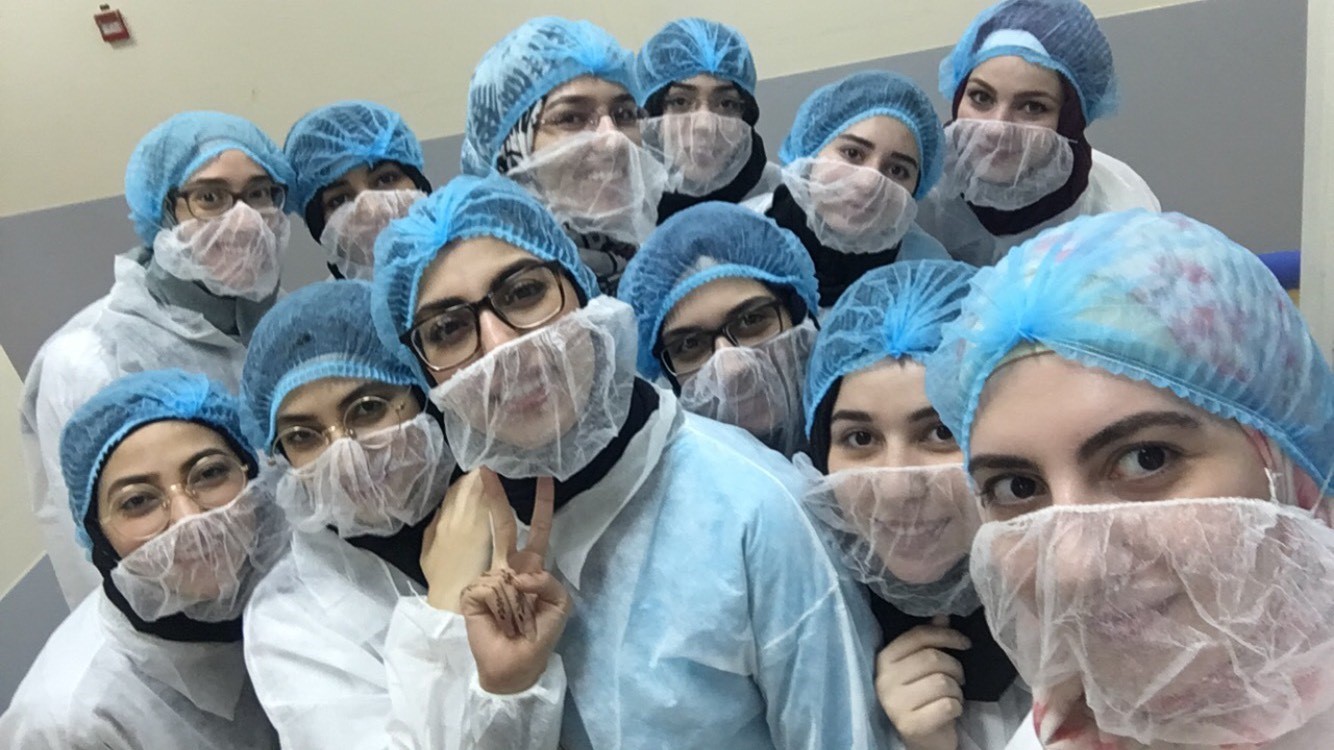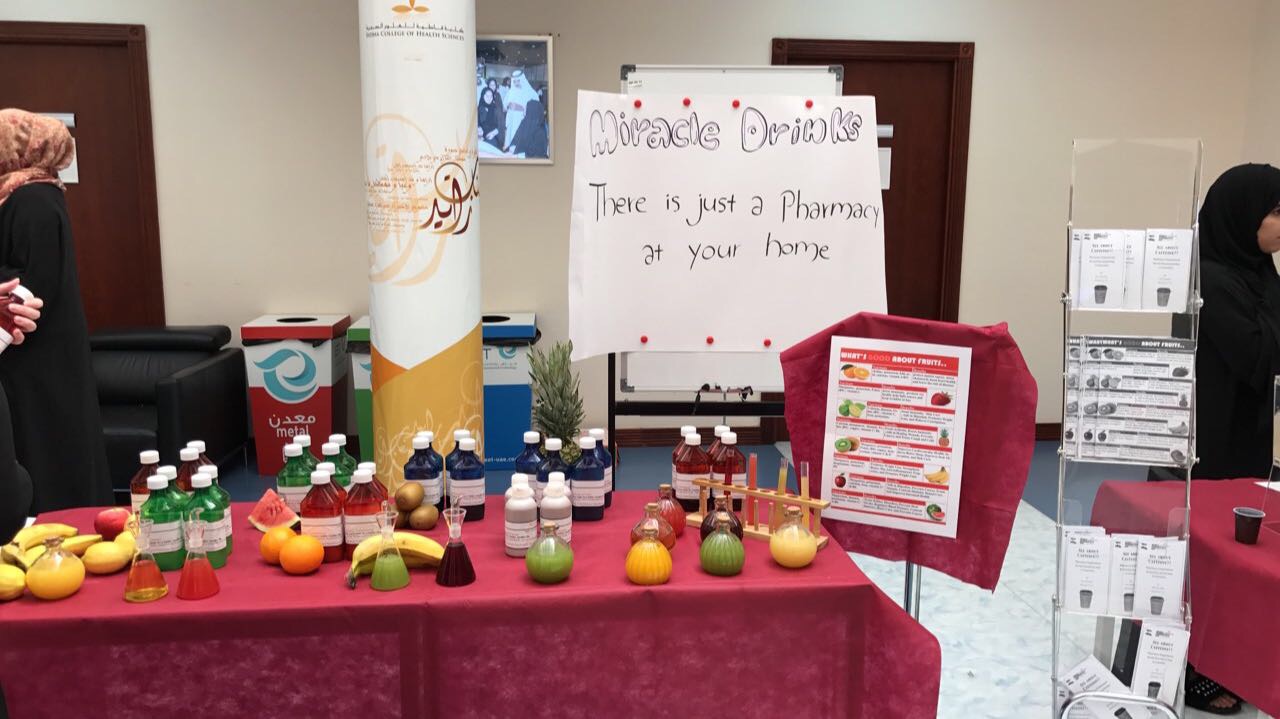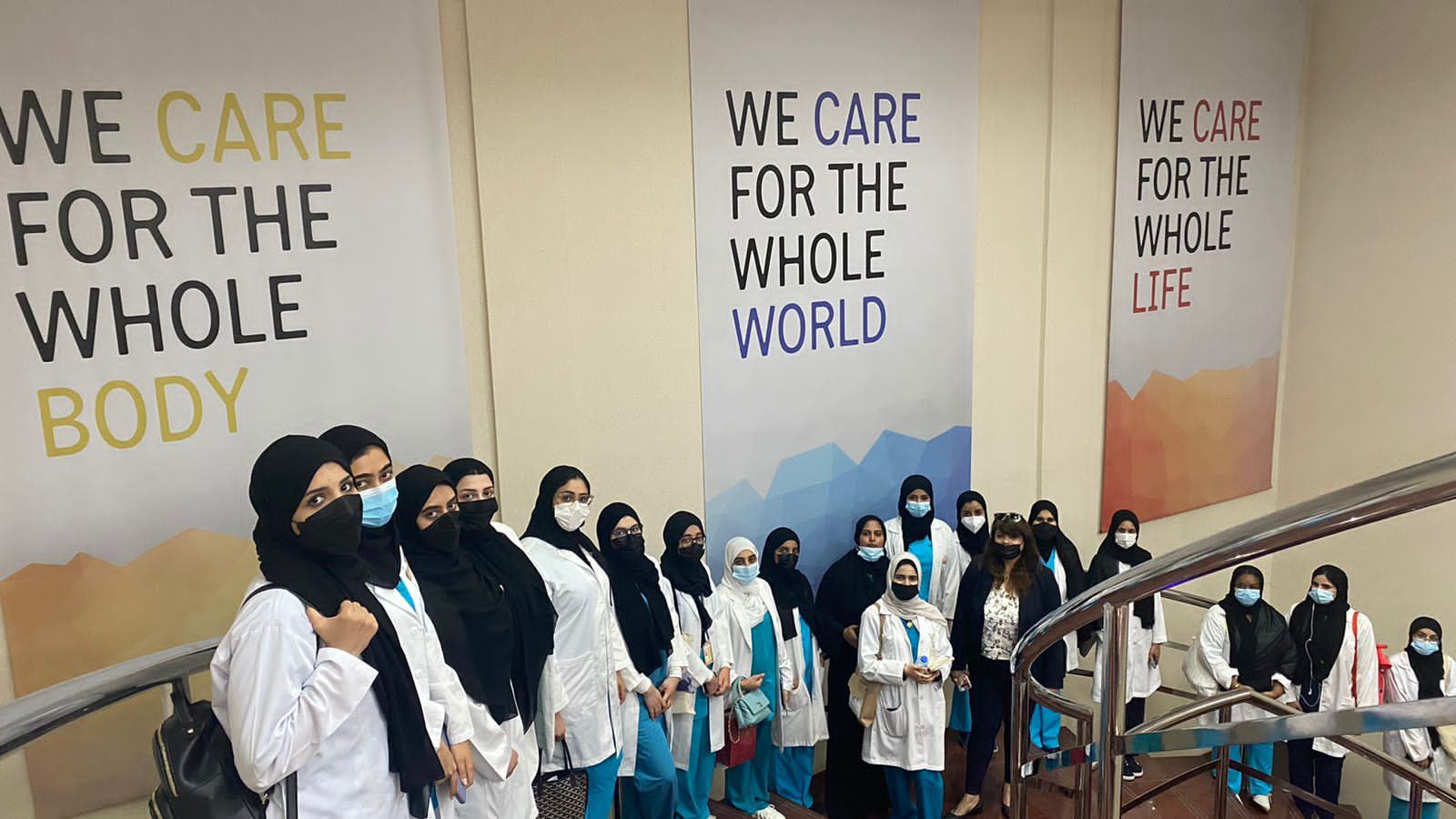 Antibiotics Awareness Week
List of Programs and Local Accreditation Status
Higher Diploma in Pharmacy
The Bachelor of Pharmacy Program at Fatima College of Health Sciences (FCHS) is a five-year program offered in Al Ain and Abu Dhabi campuses. To earn the Bachelor of Pharmacy degree at FCHS, students need to complete a minimum of 166 hours of credit. Courses offered in later years of the programme integrate scientific and mathematical knowledge acquired in the initial years of the study. Applied pharmaceuticals sciences, integrated therapeutics and practice curriculum combined with professional placements rigorously prepare our graduates to work in the hospital, clinical, community and industrial pharmacy settings. In addition, critical literature review and graduation research project develop research and communication skills.
Curriculum Design
The curriculum has six streams of study:
Enabling Sciences(Chemistry, Anatomy, Physiology, Biochemistry, Molecular Biology, Microbiology and Pharmacology) integrated with body systems and drug action.

Pharmacy Practice– the Clinical Application of the Enabling Sciences.

Applied Pharmaceutical Sciences – focuses on Pharmaceutical Formulations, Manufacture of Medicines, Oral absorption and Pharmacokinetics of Drugs.

Integrated Therapeutics– Clinical and Therapeutic Sciences, which deals with major Disease states, Epidemiology, their Diagnosis, the Chemistry, Pharmaceutics and Pharmacology of Medicines used to treat these conditions.

Professional placements– students undertake practical training in Community Pharmacy, Hospital, Ambulatory Health Service and Pharmaceutical Industry through the professional experience placements. The placements provide an understanding of the processes involved in, for example, providing primary health care, drug information, pharmaceutical manufacturing and clinical pharmacy services.

Inquiry and Innovation– critical evaluation of literature and graduation project.
Higher Diploma in Pharmacy is a 3 years program, and students need to complete a minimum of 94 hours of credit to graduate
| Staff | Rank | Highest Qualification | Department | Campus |
| --- | --- | --- | --- | --- |
| Dr. Mohamed Baraka | Head and Associate Professor | PhD | Clinical Pharmacy | Abu Dhabi |
| Dr. Saravanan Muniyandy | Associate Professor | PhD | Pharmaceutical Sciences | Abu Dhabi |
| Dr. Manal Buabeid | Associate Professor | PhD | Clinical Pharmacy | Abu Dhabi |
| Dr. Monika Sachdeva | Associate Professor | PhD | Pharmaceutical Sciences | Al Ain |
| Dr. Rasha Suliman | Associate Professor | PhD | Pharmaceutical Chemistry | Abu Dhabi |
| Dr. Majd Al Dameh | Assistant Professor | PhD | Pharmacy Practice | Abu Dhabi |
| Dr. Yassin | Assistant Professor | PhD | Clinical Pharmacy | Al Ain |
| Dr. Abdiraheem Ali | Senior Instructor | PhD | Pharmacy Practice | Al Ain |
| Dr. Wong Pei Nee | Instructor | PhD | Pharmacy Practice | Abu Dhabi |
| Dr. Noon Abubakr Abdelrahman Kamil | Instructor | PhD | Pharmaceutical Chemistry | Al Ain |
| Ms. Farah Wasim Alzoobaee | Instructor | Master | Pharmacy Practice | Abu Dhabi |
| Ms. Sara AlZaabi |   Lab specialist | Pharm D | Clinical Pharmacy | Abu Dhabi |
| Ms.Sara Humaid Alnuaimi | Lab specialist | BSc | Pharmacy | Al Ain |
| Ms. Memona Abuzar | Lab specialist | Pharm-D, Master | Pharmaceutics/ Pharmacy Practice | Al Ain |
| Mr. Theju John Thomas | Lab Specialist | M. Pharm | Pharmaceutical Analysis | Abu Dhabi |