Message from Head of the Department
Associate Prof. Dr. Saher Alsabbah
The field of psychology offers an exhilarating academic path that fosters a deeper understanding of human behavior, both within oneself and among others. Our psychology program encompasses a broad range of subjects and is delivered in intimate classroom settings by passionate and committed educators. We are proud to offer a variety of opportunities for students to become involved in research projects or develop their clinical skills. Our students have the opportunity to gain hands-on clinical experience in a variety of settings, including psychology statistics lab, students club, local community mental health organizations, nearby schools, and rehabilitation clinics.
In our psychology program, students have a unique opportunity to actively engage in and take the lead in various initiatives and activities within the college through the Students Psychology Club. Many of our students collaborate closely with faculty members on research projects spanning diverse areas such as sleep patterns, social media affect on personality, the interplay between physical activity and cognitive function, eyewitness memory, and the impact of stress on cognition.
I encourage you to explore our website, where you can discover the wide-ranging expertise of our faculty members, as well as the wealth of opportunities awaiting you in our psychology program.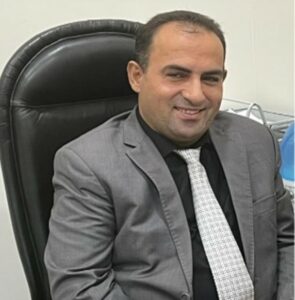 List of Programs and Local Accreditation Status
In 2019, the Psychology department at FCHS secured its initial accreditation from the CAA. Currently, the department is leading its first group of students through the rigorous four-year program. The program currently has 50 enrolled students, maintaining an impressive staff-to-student ratio of around 10:1. This Psychology program has been carefully crafted to provide students with the essential skills needed to attain a Bachelor of Science degree in Psychology (BSc), empowering them to pursue a wide range of science and research-focused career opportunities at the undergraduate level. It also prepares them for further advanced studies in the field of human behavior.
Furthermore, the psychology program offers students a diverse range of extracurricular activities, including workshops, event participation, community engagement initiatives, poster presentations, statistical and data analysis training, and much more.
Program Learning Outcomes
Below are the program learning outcomes achieved at graduation from the bachelor's degree in psychology. At the end of the degree, students will gain expertise in five main areas:
KNOWLEDGE BASE
Describe key concepts, principles, and overarching themes in psychology.
Develop a working knowledge of psychology's content domains
Describe applications of psychology
SCIENTIFIC INQUIRY & CRITICAL THINKING
Use scientific reasoning to interpret psychological phenomena
Be able to demonstrate psychology information literacy
Engage in innovative and integrative thinking and problem solving
Interpret, design, and conduct basic psychological research
Incorporate sociocultural factors in scientific inquiry
ETHICAL & SOCIAL RESPONSIBILITY IN A DIVERSE WORLD
Apply ethical standards to evaluate psychological science and practice
Build and enhance interpersonal relationships
Adopt values that build community at local, national, and global levels
COMMUNICATION
Demonstrate effective writing for different purposes
Exhibit effective presentation skills for different purposes
Interact effectively with others
PROFESSIONAL DEVELOPMENT
Apply psychological content and skills to career goals
Exhibit self-efficacy and self-regulation
Develop and Refine project-management skills
Enhance teamwork capacity
Develop meaningful professional direction for life after graduation
Curriculum Structure, Credit Hours, and Graduation Requirements
To graduate students will need to complete courses with a total of 122 credit hours. A typical study plan is shown in section 5. The psychology program courses are categorized as the following:
Cost of Studying the Program
| Staff | Title | Campus | Degree | Specialization | Email |
| --- | --- | --- | --- | --- | --- |
| Dr. Saher Al Sabbah | Head and Associate Professor | Abu Dhabi | PhD | | saher.alsabbah@fchs.ac.ae |
| Dr. Dina Joksimovic | Senior Instructor | Abu Dhabi | PhD | Clinical Psychology | dina.joksimovic@fchs.ac.ae |
| Dr. Nida Khan | Instructor | Abu Dhabi | PhD | Counselling in Psychology | nida.khan@fchs.ac.ae |
| Dr. Amani Dawlish | Instructor | Abu Dhabi | Ph.D | Inclusive and Special Education | amani.darwish@fchs.ac.ae |
| Dr. Afreen Faiza | Lab Specialist | Abu Dhabi | PhD | Psychology | afreen.faiza@fchs.ac.ae |
| Ms. Reem Ali Ahmed Ali Alharthi | Teaching Assistant | Abu Dhabi | BSc | Psychology | reem.alharthi@fchs.ac.ae |